Gulf Coast Grouper
Topic: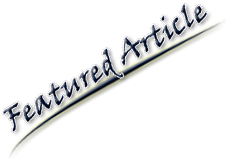 Game Plan for Gulf Coast Grouper
- Paul Bristow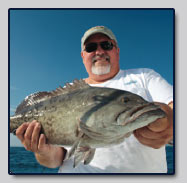 The West Coast of Florida is home to some of the finest grouper diggers in the fishing world. On one beautiful fall day, these anglers are gladly sending pinfish to their doom, accompanied only by a half-pound of lead and a circle hook. Once Mr. Pinfish hits the rocky bottom, the scene on the boat looks like hand-to-hand combat. A bit of blood and a few bruised egos later, these hardcore anglers are laughing at their wounds as they fillet some monster gags.
At the same time, on the northern end of Tampa Bay, a recently married couple is setting their downriggers. They are employing a precision trolling approach, perhaps more commonly seen among Great Lakes Salmon Fishermen. They set some large jigs and diving plugs at various depths as they use their high-tech electronics to follow the shipping channel. It is not long before the downrigger release pops and the drag sings. Somewhat surprised at their immediate success, the morning cocktails are spilled as they each rush to the rod holder.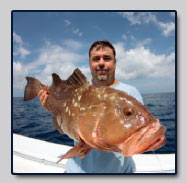 The following day, a hard North wind begins to blow, putting a winter-like chill in the air. While the anglers discussed above decide to stay in bed, a gray pickup truck leaves a St. Petersburg driveway. The truck arrives at the Sunshine Skyway Fishing Pier at 7:30 A.M., knowing the North wind will only increase the speed of that morning's outgoing tide. The angler first sets out a pinfish using a bottom rig and then proceeds to send out a diving plug with the tide.
At the same time the man begins retrieving the plug, the pinfish rod has doubled over. So much for sleeping in on a North wind. The above examples show there are many great ways to target grouper in the Sunshine State. Perhaps the most popular way of grouper fishing on the West Coast is what locals affectionately call 'grouper digging'. The technique may be simple, but those who have it mastered are rare. Bottom fishing for grouper most often involves live or dead bait fished on a strong circle hook and heavy monofilament leader. Some anglers prefer to place an egg sinker above a short leader with a swivel, while others prefer direct contact between the hook and weight or 'knocker' style'.

Pinfish, sand perch, and even small jacks make great live baits for grouper. Don't forget some dead bait as well, with Spanish sardines, threadfin herring, and even fresh squid among the best choices. Anglers should seek out suitable structure such as artificial reefs and channel edges or offshore wrecks and pipelines.
Some captains prefer starting with dead bait to establish a scent trail before switching to live bait for the largest grouper. Heavy conventional gear is most appropriate here, where a locked down drag and fully loaded rod are the only thing keeping Mr. Grouper out of the rocks.
Over the past decade, trolling has become much more popular as a method of die-hard grouper anglers. Trolling not only allows anglers to cover a lot of water, but the use high-tech electronics in conjunction with trolling is a great way to pinpoint prime fish holding structure. Indeed, many fishermen will return to marked spots to do some 'digging' with live baits after discovering a honey hole while trolling.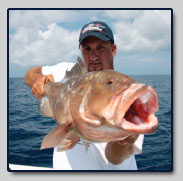 Because trolling often takes the most aggressive fish on a piece of structure, the use of live or dead baits might produce fish that initially turned down a trolled offering. Most grouper trolling is done using large diving plugs that reach depths ranging from 15 feet to 30 feet. The depth a particular lure will reach varies depending on the lip style, type of line used, and the speed of the boat. Indeed, some of the top manufacturers publish 'trolling curves' for their baits that attempt to show exactly how that lure will perform under various conditions. While many rod and reel styles will work, serious trolling anglers use conventional reels with line counter mechanisms and longer rods specifically designed for trolling.
Anglers seeking more precision in their trolling spread can employ depth control mechanisms such as diving planers or downriggers. Weighted diving planers are an inexpensive alternative to downriggers and most models perform admirably. Downriggers are the only way to achieve absolute precision that can be reproduced trip after trip. Indeed, some of the finest downrigger fishermen prefer trolling large bucktail or curly tail jigs instead of plugs on their downriggers because the jigs run true in depth to the downrigger weight.
Anglers in the Tampa Bay region have one of the finest resources for shore-bound anglers to target grouper available anywhere in the world. The Sunshine Skyway Fishing Piers have prime grouper habitat only a cast away. With artificial reefs lining both sides of the pier, anglers will find success by casting live bait rigs or free-lining live baits out to the rock piles. Some of the finest grouper anglers at the Skyway Piers have begun employing floats to get their baits out to the rocks and even fishing diving plugs against the tide in a method similar to trolling. Tackle for grouper at the Skyway Piers varies depending on the style of fishing. Many bottom fishermen employ heavy conventional tackle, while some plug anglers use stout spinning gear. Anglers unfamiliar with rigging can purchase tackle specifically designed for the piers at the bait shop. The Love's Lures line of grouper rigs cover most scenarios anglers will encounter at the Skyway Piers. Finally, consider a pier hook or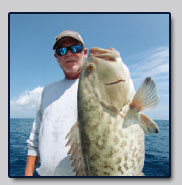 net as some grouper exceeding 30" are hauled over the rail each season!
The scenarios set forth above illustrate an important point for gulf coast grouper fishermen. Becoming comfortable with a variety of techniques not only increases grouper catch rate, but also allows anglers to spend more enjoyable time on the water. In the late fall and early winter period, weather conditions often prevent long runs to offshore structure. The ability to catch grouper by trolling, and even from land, allows fishing in most any weather scenario Mother Nature can dial up. Establishing a diverse grouper game plan will mean more gags in the box this fall.
Paul Bristow has written articles for various outdoor publications since 1999.
He is currently the manager of Apollo Beach Bait & Tackle Company, LLC which distributes the popular Love's Lures line of baits.
Questions can be e-mailed to Paul at
loveslures@msn.com
.