Redfish Fishing in the Gulf
Topic: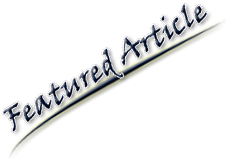 April is the month for Redfish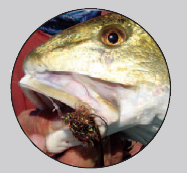 April is one of our best months for fishing. The weather is at its best and water temperatures are around that magical number of 70 degrees. With all of the ingredients being perfect for good fishing, there are almost too many different species to go after in one day. Mackerel and cobia are running around the towers and markers in the bay, Trout are still plentiful on the flats, Tarpon starting to show up around the bridges and beaches and don't forget about our inshore Grouper fishery. With so many fish to target my favorite still has to be Redfish.
Since the snook were badly decimated due to the winter of 09-10, they have taken a back seat as the premier inshore species in Tampa Bay. While Snook populations have been depleted, our Red fishing has been better than ever. We are seeing more schools of fish, bigger schools of fish, and bigger fish! This is mostly due to thousands of farmraised fish released into our bay every year combined with regulations based on good data. Redfish have really taken the stage as our number one targeted game fish!
Redfish are one of the best fighting inshore fish, but they are also one of the toughest fish to target. Starting in April, we get lots of redfish that invade the flats in schools ranging from 5 to 500 fish. They are usually very skittish and spook at the slightest noise. I have seen schools get spooked by a trolling motor, a hatch slamming, an anchor hitting the deck or even bait splashing into the water. That is why it is critical to be totally quiet and to be prepared with everything ready BEFORE you approach a school of fish or spot to fish. Bait is another important aspect of Redfishing. I like to have an assortment of different baits both live, dead and artificial. Pinfish, ladyfish, mullet, threadfins, greenbacks, and shrimp are all great baits. I usually like to have at least three of these six on the boat when fishing for Reds, because you never know what bait they will want. Redfish can be one of the pickiest fish and having a good selection of baits can be the difference between looking at the fish and catching the fish.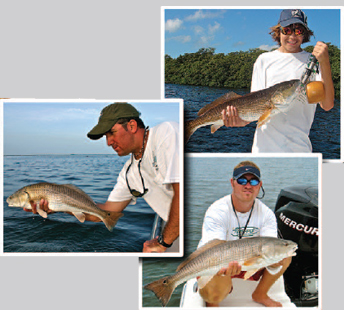 Another very important part of successful Redfishing is tackle. It is important to have the right line and leader matched with the right size hook. My favorite Redfish set up is a 8 foot Saltiga rod matched Daiwa 2500 Tierra spooled slap full on Fins #3 windtammer braided line for an accurate long cast. I like to downsize my leader material to #20 Ohero fluorocarbon about 3 foot in length tied to a 1/0 Daiichi Bleeding circle hook. This combination will enable you to make long cast and keep your boat away from the fish!
Last but not least, for successful Redfishing you must pick the right spots to fish. This all is learned by experience and time on the water. Redfish like crustaceans and are bottom feeders so great areas to look are oytersbars, mangrove islands, creek mouths, and potholes. Finding the ones holding fish is the key. One simple but effective way is to find areas where there is tidal flow in any of the areas previously mentioned and you will probably find fish nearby.
Once you have found a good spot or two and you have started getting fish to the boat, the next step is to practice a successful catch and release. Don't keep the fish out of the water for a long time and remember to revive the fish correctly. If you do decide to keep a fish, the legal size is 18 to 27 inches and you are allowed one fish per person. Remember only take home what you can eat.
Captain Jason Prieto is owner and operator of Steady Action Fishing Charters. To book a charter, call 813-727-9890 or visit www.steadyactionfishingcharters. com. Catch him on the radio by tuning into Outdoor Fishing Adventures, Saturday mornings from 8AM to 10AM on 1040 sports talk radio.