Tampa Bay info on lures and fly fishing tackle
Topic: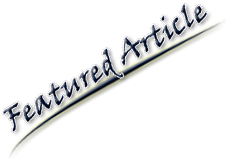 Five Lures and a Fly... for Tampa Bay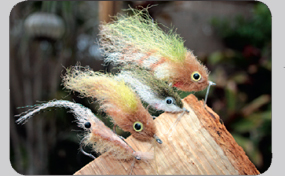 Over the last decade the fishing industry has gone through many changes. Products just seem to keep getting better and better, especially artificial lures. Taking full advantage of new technology, fishing lures have become amazingly realistic. Many new baits look and swim just like the real thing, and some stink just as much as cut bait.
Over the last ten years, my fishing career has depended on fishing with artificial lures. While fishing redfish tournaments or on charters, I have narrowed my choices down to five lures and one fly that are my "go to baits" here in Tampa Bay.
My fifth choice is the first artificial lure I ever fished with, the gold or silver spoon. The spoon has good action and is a great fish locator that covers a lot of ground. I have caught many different fish species with the spoon, and I still carry many styles and sizes in gold, silver or with painted sides. My fourth favorite lure is the scented D.O.A. Shrimp. These were the first realistic shrimp lures to be impregnated with scent to attract more fish. The D.O.A. Shrimp was revolutionary in the fishing industry. To this day, I keep many sizes on the boat at all times and the shrimp remains a must have bait for trout and redfish. When fishing dock lights at night, the D.O.A. shrimp pattern is the number one "go to lure" to work slowly in and out of the shadows. D.O.A. bait busters are also great bait for tarpon on the beaches.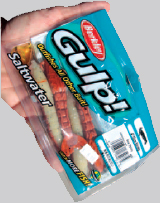 MirrOlure hard plastic lures are third on my list. The 17 MR to 27MR MirrOdine is arguably the best imitation lure out there, with classic styles colors and action. MirrOlure is based right here in Tampa Bay so it makes sense that their lures are amazingly effective for reds, trout and snook. Their patterns are field-tested right here in our backyard. MirrOlure also has some soft plastic lures in their line called the Lil John. These come in many classic styles and colors and they are also scented.
My second favorite lure, which can always be found on a spinning rod on my boat, would be the Gold Dart by Mister Twister. The Gold Dart in combination with a 1/16th oz. Mission Fishin Jig head is super deadly. For many years I have fished the skinny waters around the mangroves, and this lure is by far the best for skipping to snook and reds tucked up under the trees. The Gold Dart is rounded with no edges, and once you master the art of skipping with this lure, you'll find that it's the best one out there. The Gold Dart is the lure that almost replaced the gold spoon for me. The many different ways you can work the dart makes this lure the most versatile in my box. You can work it fast in shallow water or slow so the Dart can go up and down. Once you learn the "Splash Less" cast technique, the Gold Dart is a lure that can be presented to a fish without a big splash, thus avoiding spooking the fish. The Dart comes in many great colors including my favorite gold, as well as gold bream, starlite, watermelon and bass green.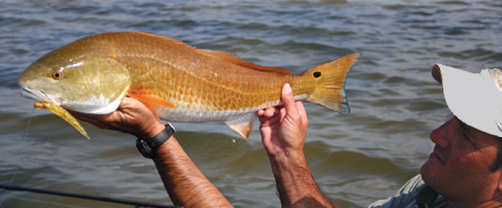 The fishing industry was rocked when Berkley invented Gulp products. Through a little manufacturing magic Berkley combined many of the best features of live or cut bait with the durability and action of a soft plastic bait. This is why the Gulp 4 inch Shrimp is my number one choice as my favorite lure. Almost everyone that fishes artificial lures has some Gulp in their tackle bag. On the redfish tour it is safe to say that Gulp is the number one choice of most of the pros. I am certain that Gulp helped me take home a $12,000.00 check for finishing 2nd place in a redfish tournament. All of the Gulp products, whether it's the shrimp pattern or the split tail shad, are super effective. In the heat of summer or on the coldest day of winter, Gulp baits are the only lure that can be effective fished super slow or even using a "Dead Sticking" technique. "Dead Sticking" is where the bait is left to sit still on the bottom and a redfish, catfish or anything else that finds the stinky-ness irresistible will come and eat it, thus making the Gulp one of the most amazing lures out there. I'm not sure what it's made of, but don't leave it on your jig head overnight or it will dry out and harden and you may lose your jig head.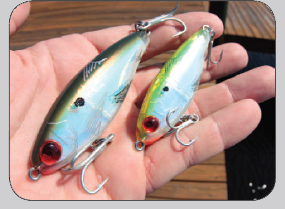 If you fly fish the Tampa Bay area, there is no better fly than Enrico Puglisi's patterns. Puglisi makes his flies out of a fiber hair that looks and reacts very realistically. In shallow water the Puglisi pattern that looks like a mud minnow is deadly for reds and snook. Present the fly near the mangroves and it will sink slowly, almost suspended. Once you strip the fly and make it hop along or swim, snook and reds ambushing bait from under the mangroves can't pass it up.
Fall is a great time of year to get out your artificial lures in Tampa Bay. As the water temperatures cool off, the fishing heats up. Although bait is everywhere, leave the cast net at home and enjoy throwing these lures and you will have success! If you would like to learn some techniques to working artificial lures call and book a day with Captain Bret Gamrot. 727-647- 2524. If you catch a 30-inch redfish, you will receive a free K- 9 Fishing Rod. First come first serve!