Trout fishing basics in Tampa Bay
Topic: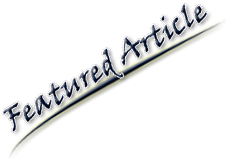 BACK TO BASICS



- Capt' Brent Gaskill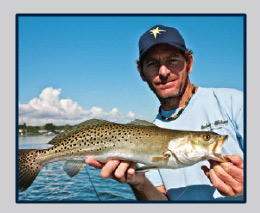 Somehow fishing has become complicated over the years. The fishing that once was a simple pleasure, which we enjoyed as kids, has become a technical challenge with high stress and tempers flar­ing on the water. What happened? Going "old school" and keep­ing it simple may be what's needed to bring the fun back to a relaxing pastime. Try forget­ting about glamorous snook and over-pressured redfish and just go trout fishing. Quietly drifting over expanses of grass beds and casting artificial lures, like we did with grandpa, is still a Tampa Bay favorite for many anglers.

In an industry that now offers a multitude of artificial lures, there are still two traditional favorites here in the bay area. These favorites are the locally owned MirrOlures and Love's Lures. Both companies make several styles of artificial baits specifically designed with trout in mind. Love's Lures has stuck with their original tandem over the years introducing only a few variations along the way. MirrOlure has kept their original lures as well, but has also taken an in­novative approach by continuing to come up with new models based on their known formula.

Basic trout fishing is as simple as it gets. Trout are ag­gressive feeders and will readily hit artificial baits. They can be found holding over or around a variety of struc­ture and terrain including grass beds, deep holes, sandy flats, rocky bottom or contrasting mud bottom and residential canals. Both MirrOlure and Love's Lures offer a product that works for any scenario.

The abundance of trout in the Tampa Bay area has made them one of the staples of the fishing commu­nity. It seems as though you can always count on them to bite. The infamous red tide of 2005 changed that status for a short period of time, as they were one of the hardest hit species in the massive kill off. Because trout are prolific breeders, they have bounced back giv­ing us plenty of fish to target. Their stock numbers are still in question, but they certainly provide a great option when getting back to basics.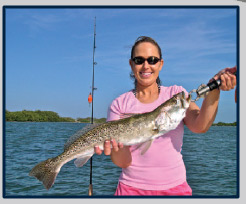 October typically produces good catches of trout as daylight hours begin to dwindle and water tem­peratures drop on the flats. The trout season will close in November and December, making this your last chance for a trout dinner for a while. If a fresh dinner is not on the agenda, releasing your catch is al­ways the best option. If you are new to the sport or new to the area ask your bait shop about supporting our local tackle manufacturers and tie on a MirrOlure or Love's Lure when trout fishing. You won't be disappointed.

Capt. Brent is a 4th generation native to the Tampa Bay area who grew up fishing the flats of the Mullet Key Bayou. He charters both inshore and offshore offering fun trips for everyone from novice to expert. Capt. Brent is now also teach­ing stand up paddle board lessons and guiding Eco-tours.

He can be contacted at 727-510-1009 or e-mail captbrent@summervacationcharters.com. View his website at www.summervacation­charters.com for more charter fishing information.